Youth will experience community in the context of Worship, Bible Study, Small Groups, Games, Community Time, and Outreach Activities.
We value relationships and believe spending this time together provides opportunity for personal, relational and spiritual growth.
Lessons will be based on the Bible and will help youth know how to apply the message of grace and truth in their everyday lives. Lessons will not be sit-and-get! Youth will have opportunities to discuss lessons with age-level small groups (and adult sponsors).
We also believe that we are called to Go! Faith can be practiced by loving others through Outreach of the ones Christ showed love to. We are currently investigating ways to be the hands and feet of Christ, and look forward to the youth being a part of this!
Of COURSE THERE WILL BE FUN!!! Games, challenges, sports, art, outside activities, retreats, small group fun nights, and holiday events are some things West Ridge Youth have planned this year. Whether you are introverted or extroverted, you are welcome here!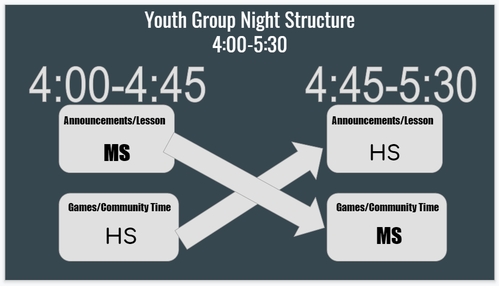 Staying Safe during covid-19
We will follow the following social distancing strategies:
Sanctuary and Small Group Discussions=masks and practice social distancing
Outside Games=Masks are not required
Open Gym (Small Group Games/Activities with no more than 6 per group)=Masks are not required but are welcome.
Inside Stationary Games/Activities=Masks